Melatonin
When you're trying to quit smoking, dealing with nicotine withdrawal can mess up your mood and performance, making it more likely to go back to smoking. But some studies found that using Melatonin can really help. It can seriously bring down feelings of anxiety, restlessness, tension, irritability, anger, depression, impatience, and those pesky cigarette cravings. So, Melatonin might be the trick to handle the tough mood changes when you quit smoking. That's why doctors might prescribe it as part of a whole package of help to quit smoking.
What Are Melatonin Tablets
These tablets have melatonin as an active ingredient. They're handy for administering. They can get your sleep back on track and help you feel more like yourself after traveling. They can also be prescribed as an additional therapy for mood swings while you quit smoking.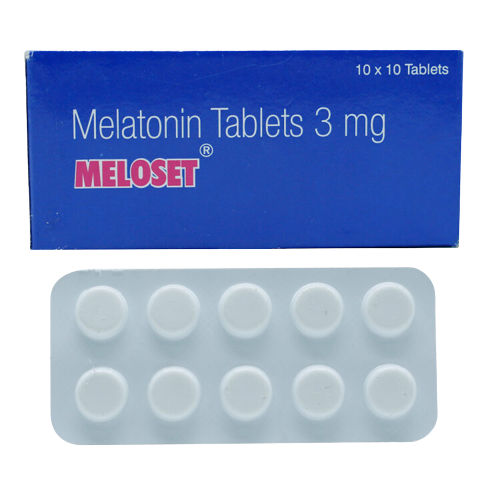 Ingredients
Each film-coated tablet of this medicine contains 3 mg of the active substance, melatonin.
The other ingredients in the tablets include:
cellulose microcrystalline;
maltodextrin;
colloidal anhydrous silica;
magnesium stearate.
The coating of the tablets is made up of:
hypromellose;
lactose monohydrate;
titanium dioxide;
macrogol 4000.
Melatonin tablets are round and off-white in color, with a biconvex film coating. They have an approximate diameter of 8 mm and a thickness of approximately 3 mm.
These tablets are packaged in blisters made of PVC/PVdC-Aluminium. Each blister contains ten tablets.
The standard pack size for this medicine is 30 tablets.
How Does Melatonin Work
Our bodies naturally produce a hormone called melatonin, and it's responsible for keeping our day-and-night cycle in sync. However, sometimes this biological rhythm can get messed up, and we experience what's known as jet-lag. Luckily, melatonin tablets can come to the rescue! They can help get our day-and-night rhythm back on track and reduce those jet-lag symptoms.
Additionally, if you are on a quit-smoking journey, Melatonin may help reduce restlessness, depression, and irritability.
How to Use Melatonin Tablets
Always follow your doctor or pharmacist's instructions for taking this medicine.
Take this medicine without food.
While using this medicine, it's best to avoid alcohol, as it can disrupt sleep and worsen certain symptoms like headaches, morning fatigue, and concentration issues.
For adults and elderly patients, the recommended dose is one tablet daily for a maximum of 5 days. If the effect is insufficient, you can take two tablets at once. Take the first dose at your usual bedtime, and on subsequent days, take it at the same time each day. Avoid taking the tablets before 08.00 pm or after 04:00 am.
Swallow the tablets whole with water or another liquid, like milk or fruit juice. Do not eat anything 2 hours before or after taking the Melatonin tablets. You can use Melatonin tablets for a maximum of 16 yearly treatment periods.
If you accidentally take more Melatonin tablets than recommended and feel unwell, seek medical help immediately. Common symptoms of overdose include drowsiness, headache, dizziness, and nausea.
If you forget to take a tablet at bedtime but wake up at night, you can still take the missed dose, but not later than 04:00 am. Never take a double dose to make up for a missed one.
If you decide to stop taking Melatonin tablets, you won't experience any harmful effects or withdrawal symptoms.
Feel free to ask your doctor or pharmacist any other questions about using this product.
Warning Information
Avoid taking Melatonin tablets if you're allergic to Melatonin or any other ingredients in the medicine.
Before using these tablets, talk to your doctor or pharmacist if you have the following:
Epilepsy, as Melatonin might increase seizure frequency in patients with this condition.
An autoimmune disease when the body's immune system attacks itself.
Diabetes or impaired glucose tolerance, as this medicine may raise your blood glucose levels.
Significant liver or kidney impairment.
Smoking habit, as smoking can reduce the effectiveness of Melatonin tablets due to the breakdown of Melatonin by the liver.
Caution for Children and Adolescents
Do not administer this medicine to children and adolescents aged 0 to 18, as its safety and efficacy for this age group are unknown.
Pregnancy, Breastfeeding, and Fertility
If you are pregnant, breastfeeding, planning to have a baby, or are of childbearing potential, consult your doctor or pharmacist before using this medicine.
Pregnancy: Melatonin tablets are not recommended during pregnancy due to potential risks to the unborn child.
Breastfeeding: Melatonin is excreted in breast milk, and the safety of this medicine for nursing infants is uncertain.
Fertility: Melatonin tablets are not recommended for individuals planning to conceive, as there is insufficient information on their effects on female and male fertility.
Driving and Using Machinery
Melatonin tablets may cause drowsiness and reduce alertness for several hours after consumption. Avoid taking this medicine before driving or operating machinery.
Contains Lactose: If you have a known intolerance to some sugars, consult your doctor before using this medicinal product.
Interactions with Other Medications
Inform your doctor or pharmacist if you are taking, have recently taken, or might take any other medicines, especially:
Fluvoxamine (for depression and obsessive-compulsive disorder), as it may increase the effect of Melatonin.
Psoralens (for skin disorders like psoriasis), as they may enhance the effect of Melatonin.
Cimetidine (for stomach problems like ulcers) may amplify Melatonin's effect.
Estrogens (used in contraceptives or hormone replacement therapies), as they may enhance the effect of Melatonin.
Quinolones (for bacterial infections), which can increase the effect of Melatonin.
Rifampicin (for bacterial infections), as it may reduce the effect of Melatonin.
Carbamazepine (for epilepsy), which might decrease the effect of Melatonin.
Benzodiazepines and non-benzodiazepine hypnotics (sleep-inducing medicines like midazolam, temazepam, zaleplon, zolpidem, and zopiclone), as Melatonin may enhance their sedative effect and certain side effects of zolpidem (morning sleepiness, nausea, confusion).
Warfarin (an anticoagulant), as Melatonin may affect its effectiveness.
Side Effects
Just like all medicines, this one can have side effects, although not everyone will experience them.
Serious side effects: If you encounter any of the following serious side effects, stop taking the medicine and contact your doctor right away:
Uncommon side effects (may affect up to 1 in 100 people):
reduced number of white blood cells in the blood;
reduced number of blood platelets, which increases the risk of bleeding or bruising;
disorientation;
fainting;
visual impairment, including blurred vision;
feeling your heartbeat ('pounding chest');
blood (red blood cells) in the urine;
severe allergic reaction resulting in swelling of the tongue or lining of the mouth.
Non-serious side effects: If you experience any of the following non-serious side effects, get in touch with your doctor or pharmacist: Common side effects (may affect up to 1 in 10 people):
Uncommon side effects (may affect up to 1 in 100 people):
irritability, nervousness, restlessness, abnormal dreams, anxiety;
dizziness;
high blood pressure;
abdominal pain, upper abdominal pain, indigestion, mouth ulceration, dry mouth, nausea;
itching, rash, dry skin;
excretion of glucose in the urine, excess protein in the urine;
feeling unwell;
weight increase.
Rare side effects (may affect up to 1 in 1000 people):
high levels of specific fat molecules (triglycerides) in the blood;
altered mood, aggression, and increased sex drive;
memory impairment, restless legs syndrome, pins-and-needles sensation;
watery eyes;
hot flushes;
vomiting, wind, excess saliva, bad breath, inflammation of the stomach lining;
nail disorder;
arthritis, muscle spasms;
passing large volumes of urine;
prolonged erection that might be painful, inflammation of the prostate gland;
thirst;
abnormal levels of electrolytes in the blood.
Not known (frequency cannot be estimated from available data):
hypersensitivity reactions;
high blood glucose level;
the flow of milk from the breasts (also in men).
Storage
Remember to keep this medicine out of sight and reach of children.
Do not use this medicine after the expiry date mentioned on the carton and label. The expiry date is the last day of that month.
Store the medicine below 25°C.
Don't dispose of any medicines via wastewater or household waste. Ask your pharmacist for guidance on throwing away medicines you no longer need. These steps are essential to protect the environment.